Senior Software Development Engineer
BlueHeart Energy
Alkmaar
What is required?
Completed technical college education
Broad experience with Embedded software (C and C++) and Windows-based test software (Python, C and C++, Matlab
Nice to have: Free Pascal experience
Nice to have: Model based design experience
Nice to have: Experience with Bluetooth, WiFi, Linux, PLC programming and VCA motor control is a plus
Experience with communication protocols (modbus, RS485)
Be able to read electrical schematics
Being able to create software design documentation (setting up the software architecture) for industrial application
Good command of the English language, both verbally and in writing
Nice to have: Advisory, persuasive, environment-conscious and result-oriented
Able and willing to work in a start-up environment, goal oriented and good adaptability
What will you get?
€4.000 - €6.000 gross p/m (depending on knowledge and experience)
40-hour working week
25 vacation days
Training opportunities
Company Phantom shares, laptop and SIM card EU+USA
Pension
What will you do?
40% PC test application software development
40% Embedded application and driver software development
10% Capture and manage specifications
5% Electronics & Software Architect consulting
5% Maintaining systems
This vacancy has been created based on interviews with employees to help you get a realistic preview of the job.
Vacancy
As a Senior Software Development Engineer at BlueHeart Energy, you are responsible for designing and developing the application software for both the heat pump and test control system. You define and develop the functional specifications. To start with, you will mainly be involved in developing the PC test software application. You will also help develop possible product tools, such as End of Line software and Configuration software. Over time, you will also start developing the embedded application software and the embedded driver software of the heat pump.
In this position, you will also be responsible for the maintenance of the various systems, in collaboration with the IT department. In addition, you have an advisory role to the Electronics & Software Architect on topics such as software design and architecture, revision management systems, software development platforms and the static code checker. Finally, you conduct research into new developments in the field of software development tools, software languages and software design that may be of interest to BlueHeart Energy's systems and devices.
You are part of the Electronics, Mechatronics & Software Development (EM&S) team. In addition to you, this team consists of an Electronics & Software Architect and a Mechatronics Engineer. In this position, you report to the Electronics & Software Architect. You will also work in a multifunctional agile team on various projects within BlueHeart Energy.
If you enjoy developing different types of applications and find it challenging to do so within an organization where there is a lot of change, then this is a job for you.
Working week
Software Development Engineer

On an enjoyable working day, you have pleasant and productive meetings with colleagues and make a lot of progress developing the software for the prototype.
On a less enjoyable working day, certain specifications turn out to have changed, so you have to start again writing part of the software.
07:00

08:00

09:00

10:00

11:00

12:00

13:00

14:00

15:00

16:00

17:00

18:00
You are asked to develop software for a test setup, how do you proceed?
You start a process like this by asking for the requirements of this specific test setup. What should the test setup be able to do and what features are included? Then you start by drawing up the software design document, which defines and describes the architecture. From this document, you determine the software modules and the interfaces between them and start developing the software. During the process, you regularly discuss with the Mechatronics Engineer, the Electronics & Software Architect and the other team members within your multidisciplinary team.
Growth
The growth path at BlueHeart Energy is not fixed. The company expects to grow rapidly in the coming years and create opportunities for everyone who is ready to take on new responsibilities. BlueHeart Energy offers training and courses and knowledge sharing between employees is very important. The great advantage of the start-up phase is that your own initiative is highly valued and you can create your own job. As Blue Heart Energy grows, you grow with it.
Senior Software Development Engineer
Working at BlueHeart Energy
BlueHeart Energy was founded in 2016 to apply thermoacoustics as a technology in heat pumps. Thermoacoustics is a disruptive approach to generate heat and cold, with potential to revolutionize the whole industry. Over the past five years, BHE has developed a thermoacoustic engine to power heat pumps in residential buildings. This so called 'Blue Heart' of a heat pump is sold to manufacturers. In the coming years, Blue Heart will have to be further developed and optimized. Besides this, we must set up our production and strengthen the relationships with our customers.
Headquarters in Alkmaar

28 employees

Active in more than 10 countries

20% / 80%

Average age 38 years

Casual

Hybrid working
Colleagues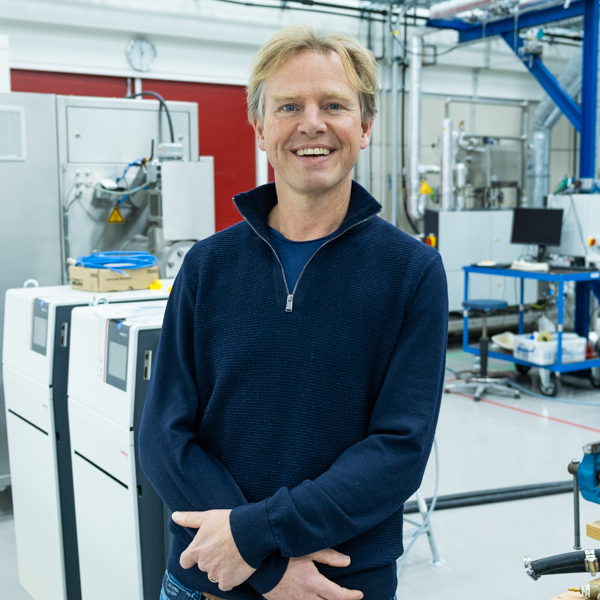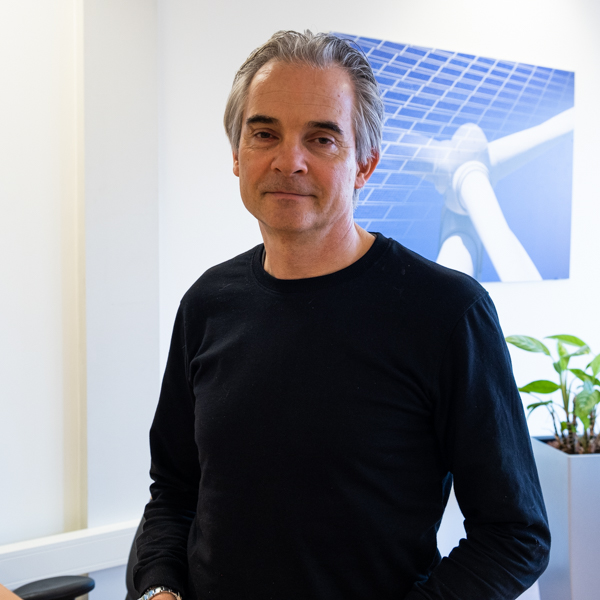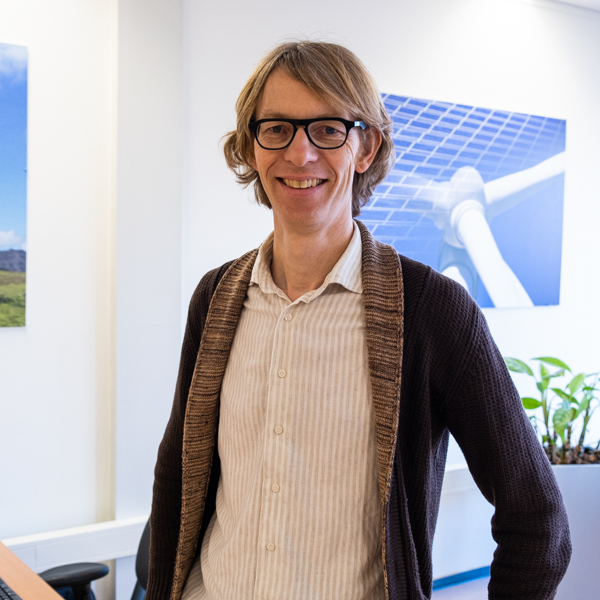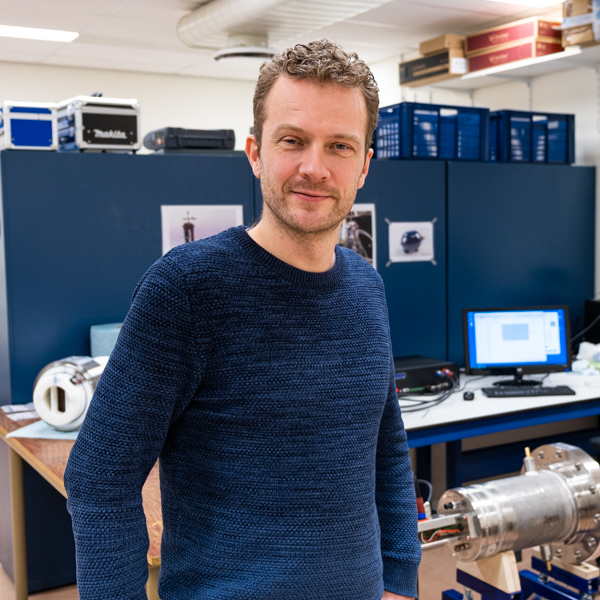 Michiel Hartman (51) - General Manager
Why did you decide to work for this company?
I founded Blue Heart because sustainable heating and cooling is one of the biggest challenges in the energy transition. Thermoacoustics is one of the game changers to make this possible. A complex technique with great impact which requires a great team with various specialties. Building Blue Heart on all these aspects is my big motivator.
What was your previous job?
Founder of QWIC electric bicycles and president of the Branch Association of Electric Transport. I was also temporary Project Manager of large heat projects in The Netherlands.
What do you do in your spare time?
Tennis, skiing, family, outdoor sports (workouts and water sports).
Haico Halbesma (53) - Chief Financial Officer
Why did you decide to work for this company?
Blue Heart's Energy goal to green the built environment in terms of heating and cooling appealed to me greatly. This combined with the opportunity to work with a multidisciplinary team on the complex challenge of applying this clean solution widely, bringing it to the market on a large scale and getting it produced in the Netherlands.
What was your previous job?
Director.
What do you do in your spare time?
Sailing.
Roelof Schuitema (49) - Technical Sales Manager
Why did you decide to work for this company?
I was involved in multiple renewable energy projects including Blue Heart Energy's heat pump. When the project spun off into a startup, I seized the opportunity to work full time at Blue Heart. My work brings innovation, development and the application of sustainable technology together, with the entire company operating as a team. That's the ideal working environment for me, and that's what makes working at Blue Heart so great.
What was your previous job?
Operationeel manager at Teamwork Technology.
What do you do in your spare time?
Hiking, camping en spending time with my kids.
Frank Roet (46) - Project Engineer
Why did you decide to work for this company?
After a ten years in the oil and gas industry, I wanted to use my knowledge and experience to build something great. I like a dynamic environment, so a startup is a good fit for me. As an experienced development engineer, I can really do my thing here.
What was your previous job?
Technical Product Specialist.
What do you do in your spare time?
Building electronics.
Application process
First interview (by phone)
Personal interview + requirements
Deepdive on knowledge
You've got the job!