Mechanical FEA Engineer
BlueHeart Energy
Alkmaar
What is required?
Completed MSc Mechanical degree
Minimum 5 years' work experience
FEA and fatigue analysis experience, knowledge of thermal analyses is a plus
Knowledge of materials, such as metals, elastomers and plastics
Ability to propose design modifications
Good command of the English language, both verbally and in writing
Able and willing to work in a start-up environment, goal and team oriented
What will you get?
€3.500 - €5.500 gross p/m (depending on knowledge and experience)
40-hour working week
25 days holiday
Training opportunities
Company Phantom shares, laptop and SIM card EU+USA
What will you do?
30% Giving advice + writing (advisory) reports
30% Performing mechanical analyses
20% Internal meetings
10% Meetings with suppliers
10% Drawing up specifications for analyses
This vacancy has been created based on interviews with employees to help you get a realistic preview of the job.
Vacancy
As a Mechanical FEA Engineer at BlueHeart Energy, you are responsible for performing mechanical analysis of the BlueHeart Energy heat pump. A first prototype is currently being produced and the company is now optimising it into a mass-producible design. You contribute to this by using FEM software to calculate which parts are the best for the heat pump.
When designing a unique heat pump, the Engineering team faces several technical challenges. The choice of the right materials is limited, as it depends on the internal pressure, the number of pressure changes and the internal temperatures in the heat pump. You support the team by analysing dynamic membranes, pistons, cylinders and structural components made of steel, aluminium and plastic. In doing so, you try to find out whether the parts meet all mechanical requirements and, for example, have long-term fatigue and creep resistance. Based on your findings, you advise the Engineering Team and indicate product optimisations.
You are part of the Engineering Team, which consists of several Engineers, a Designer, an Analyst and a Project Leader. You work closely with the Designer to develop an idea to a workable product. Furthermore, you will be working in a lively development environment, where you have the opportunity to be creative.
If you enjoy supporting a team by researching materials in depth, and find it challenging to do so within an organisation where there is a lot of change, then this is a job for you.
Working week
Structural Engineer

On an enjoyable day, you make a mechanical analysis of a heat pump component. Based on the results, you come up with a proposal for improvement, which you present to your colleagues and then discuss it with them.
On a less enjoyable day, you get stuck making the calculations, struggle with the software or fail to do qualitative analysis. Sometimes this is just bad luck, but you may also need to try a different approach.
07:00

08:00

09:00

10:00

11:00

12:00

13:00

14:00

15:00

16:00

17:00

18:00
You get the question from the Engineering team whether the strength of a pressure vessel meets all the requirements. How do you formulate an answer to this?
You first gather the information needed for proper analysis to determine the strength. What are the relevant pressures and temperatures? And what are the regulatory requirements? You process this information in a specification of the analysis. Then you determine whether it makes sense to outsource the analysis or to carry it out yourself: sometimes you do not have the resources to perform a good analysis yourself. In the case of outsourcing, you guide the relevant supplier. If you carry out the analysis yourself, you determine which software is most suitable for this purpose. You then perform the calculations and interpret the results, after which you report them and finally come up with a substantiated design proposal.
Growth
The growth path at BlueHeart Energy is not fixed. The company expects to grow rapidly in the coming years and create opportunities for everyone who is ready to take on new responsibilities. BlueHeart Energy offers training and courses and knowledge sharing between employees is very important. The great advantage of the start-up phase is that your own initiative is highly valued and you can create your own job. As Blue Heart Energy grows, you grow with it
Working at BlueHeart Energy
BlueHeart Energy was founded in 2016 to apply thermoacoustics as a technology in heat pumps. Thermoacoustics is a disruptive approach to generate heat and cold, with potential to revolutionize the whole industry. Over the past five years, BHE has developed a thermoacoustic engine to power heat pumps in residential buildings. This so called 'Blue Heart' of a heat pump is sold to manufacturers. In the coming years, Blue Heart will have to be further developed and optimized. Besides this, we must set up our production and strengthen the relationships with our customers.
Headquarters in Alkmaar

28 employees

Active in more than 10 countries

20% / 80%

Average age 38 years

Casual

Hybrid working
Colleagues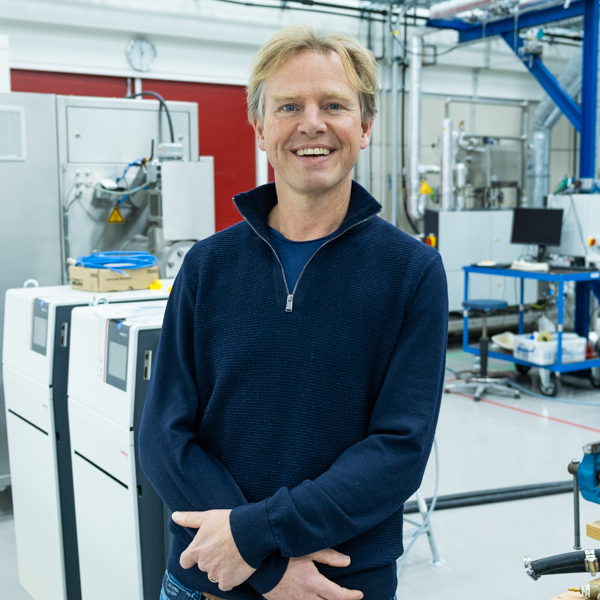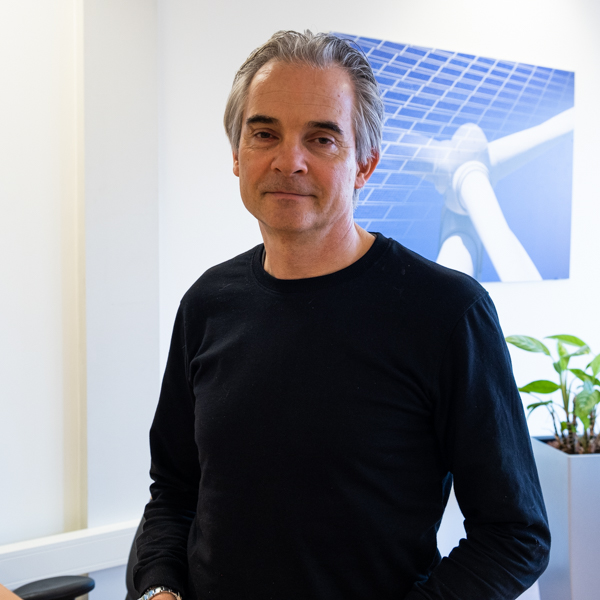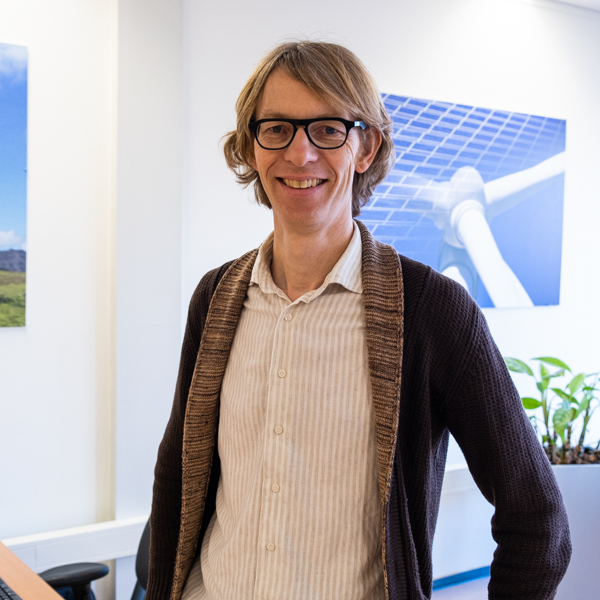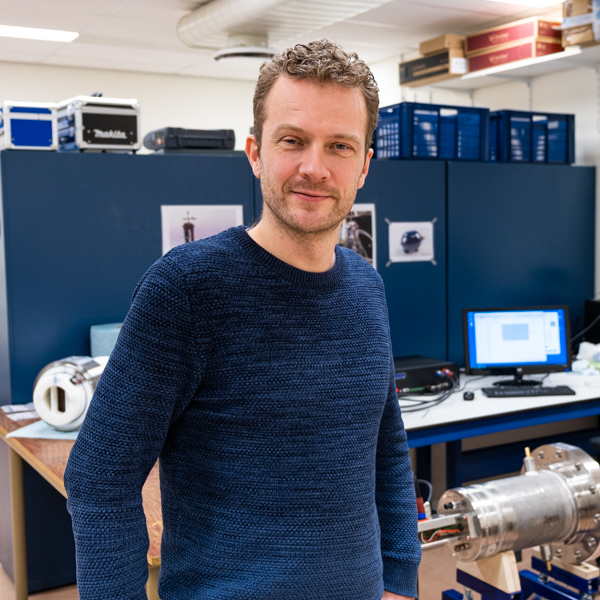 Michiel Hartman (51) - General Manager
Why did you decide to work for this company?
I founded Blue Heart because sustainable heating and cooling is one of the biggest challenges in the energy transition. Thermoacoustics is one of the game changers to make this possible. A complex technique with great impact which requires a great team with various specialties. Building Blue Heart on all these aspects is my big motivator.
What was your previous job?
Founder of QWIC electric bicycles and president of the Branch Association of Electric Transport. I was also temporary Project Manager of large heat projects in The Netherlands.
What do you do in your spare time?
Tennis, skiing, family, outdoor sports (workouts and water sports).
Haico Halbesma (53) - Chief Financial Officer
Why did you decide to work for this company?
Blue Heart's Energy goal to green the built environment in terms of heating and cooling appealed to me greatly. This combined with the opportunity to work with a multidisciplinary team on the complex challenge of applying this clean solution widely, bringing it to the market on a large scale and getting it produced in the Netherlands.
What was your previous job?
Director.
What do you do in your spare time?
Sailing.
Roelof Schuitema (49) - Technical Sales Manager
Why did you decide to work for this company?
I was involved in multiple renewable energy projects including Blue Heart Energy's heat pump. When the project spun off into a startup, I seized the opportunity to work full time at Blue Heart. My work brings innovation, development and the application of sustainable technology together, with the entire company operating as a team. That's the ideal working environment for me, and that's what makes working at Blue Heart so great.
What was your previous job?
Operationeel manager at Teamwork Technology.
What do you do in your spare time?
Hiking, camping en spending time with my kids.
Frank Roet (46) - Project Engineer
Why did you decide to work for this company?
After a ten years in the oil and gas industry, I wanted to use my knowledge and experience to build something great. I like a dynamic environment, so a startup is a good fit for me. As an experienced development engineer, I can really do my thing here.
What was your previous job?
Technical Product Specialist.
What do you do in your spare time?
Building electronics.
Application process
First interview (by phone)
Personal interview + requirements
Deepdive on knowledge
You've got the job!